Rufous fieldwrens
Calamanthus campestris, C.campestris hartogi,
C. campestris dorre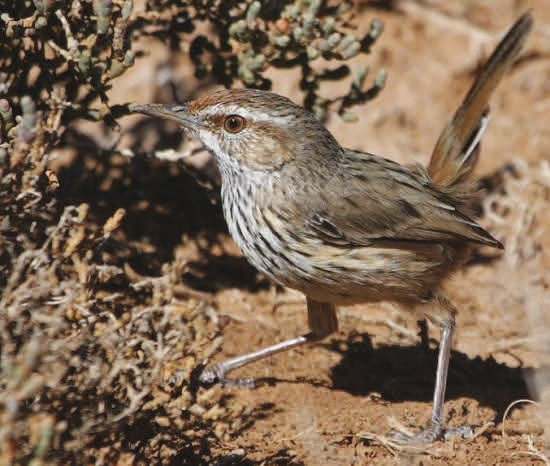 Head-body
115-130mm
Lifespan
9.5 years
Weight
14g
Shark Bay is home to three rufous fieldwrens. Two are subspecies found only on islands – the Dirk Hartog Island rufous fieldwren and the Dorre Island rufous fieldwren. They are all grey-brown with creamy-white breasts. Each also has a brick-red tinged crown and a light stripe over the eyebrow. Their white-tipped tails are usually cocked upwards. The island subspecies are paler than the mainland species.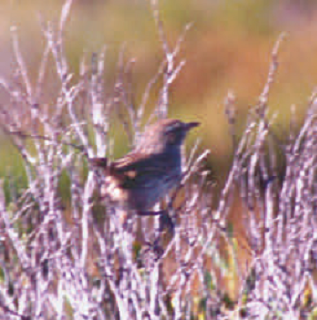 Rufous fieldwrens inhabit dry country, particularly low saltbush and other shrubs scattered over sandplains. The Dirk Hartog Island rufous fieldwren occurs only on Dirk Hartog Island and is found in most habitats including low scrub and samphire flats. The Dorre Island subspecies occurs only on Dorre Island where it lives in low, sparse vegetation eating insects and seeds.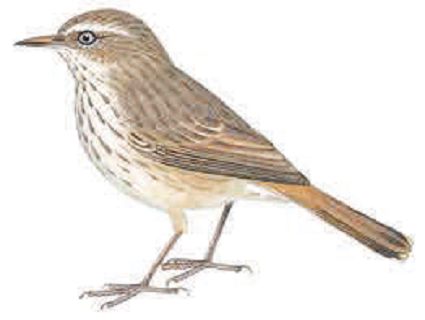 Nesting season
July—November
No. eggs
2-3
Fledge
16 days
Rufous fieldwrens dart under cover at the first sign of danger. However, in the breeding season males will sing from exposed perches above the shrubbery. Calls are a mixture of clear, high whistles and rattling trills. The female lays eggs in a domed nest built of grass and stalks and lined with feathers, fur and soft plant fibres.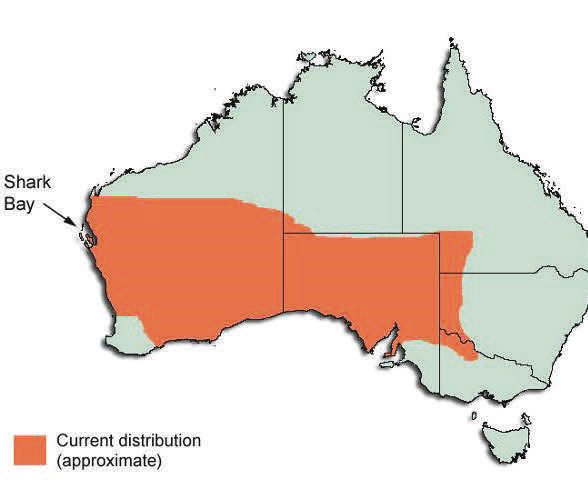 Rufous fieldwrends have been spotted on the road along the Peron Peninsula, particularly near the turnoffs to Goulet Bluff and Fowlers Camp. They are also seen between Denham and Little Lagoon where they are easily located by their calls.

The two island subspecies are listed as vulnerable to extinction. Mainland rufous fieldwrens face threats from introduced species and bushfires.
Fact sheet
SHARK BAY
World Heritage