The Dos and Don'ts of Fishing in Shark Bay
It's easy to see why Shark Bay is one of the most popular fishing spots in Western Australia – more than 4800 square km of seagrass meadows attract an incredible range of fish species, including mulloway, trevally, bream, whiting, and the huge pink snapper that the region is famous for.
Whether you plan on spending an afternoon fishing on the beach or a day out on the boat, you need to know the basic dos and don'ts of fishing in Shark Bay. The following tips will help you make the most out of your trip, as well as keep you out of trouble with the local Fisheries and Marine Officers – after all, you want to bring home fish, not fines!
1. Know the Sanctuary Zones
While you're welcome to fish in most areas of Shark Bay, there are a few spots where recreational fishing is prohibited to protect certain species. Sanctuary zones include the Hamelin Pool Marine Nature Reserve and sections of Sandy Point, Surf Point, and Mary Anne Island.
Fishing is permitted in recreational zones and general use zones throughout Shark Bay. For a detailed map of these zones, check out the Shark Bay recreation guide.
2. Pay attention to special fishing rules
To keep Shark Bay a great place for recreational fishing for generations to come, special fishing rules are in place to prevent certain populations from being overfished.
For example, Shark Bay is most famous for its pink snapper, but that fame caused massive overfishing of the species in the 1990s. Since then, recovery efforts have put restrictions on the minimum size and number of pink snapper fishers can bag each day.
These rules keep stocks sustainable and give more anglers an opportunity to reel in a trophy pinkie, which is why it's important that you learn and abide by them before you start fishing in Shark Bay. The special fishing rules for individual species change as species populations are monitored and seasons change, but you can always keep up to date with all of the latest rules on the Fisheries website.
3. Plan ahead and book early
You should always plan ahead for any fishing trip no matter where you're going, but you'll want to plan especially far in advance for a trip to Shark Bay. During peak fishing seasons, campsites fill up quickly, so you'll want to book as soon as possible to get a spot.
Check the weather forecast before you leave and continue to keep an eye on the weather while you're on the water. Also keep in mind that some areas, such as Gregories and Steep Point, can only be accessed with a 4WD vehicle.
4. Make sure you have the proper licenses
Before you set out on your Shark Bay fishing holiday, make sure all your licenses and permits are in order. The most obvious of these is your recreational fishing license, but you'll need separate licenses for net fishing, rock lobster, abalone, and marron. These licenses are only required when fishing from a boat.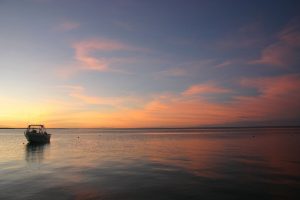 5. Fish where the fish are
If you've never been fishing in Shark Bay before, it can be hard to know which spots are best. Depending on whether you prefer fishing from a boat, shore, or cliff, you'll want to do your research beforehand so that you can fish where the fish are.
Some of the most popular and worthwhile fishing spots in Shark Bay include:
Denham: Great for anglers of all skill levels, Denham offers plenty of opportunities to catch whiting, flathead, squid, mulloway, and pink snapper.
Dirk Hartog Island: A popular charter fishing spot, the west coast of Dirk Hartog is a treasure trove of tuna, marlins, northern bluefins, mackerel, cobia and trevally.
Francois Peron National Park: Only accessible with 4WD, Francois Peron is the place to go if you're looking to stay away from the crowds. You'll have no trouble catching whiting, flathead, and tailor.
Steep Point: Australia's most western point, Steep Point can only be accessed by 4WD. Experienced anglers can pull up impressive Spanish mackerel, cobia, kingfish, and snapper.
 6. Take all necessary safety precautions
Before setting out on any fishing trip, you'll want to bring more than enough fuel, food, and water, along with first aid supplies in case of emergency.
One of the most exciting activities for anglers in Shark Bay is cliff fishing off Steep Point, and while it's immensely rewarding, it can also be dangerous. You should always go cliff fishing with at least one other person, wear shoes with good traction, and make sure you choose a stable, wide ledge that doesn't feel slippery or loose underfoot. Also be aware of unexpected large waves – fishers have been swept off cliffs at Steep Point.
Australia is home to some of the most amazing wildlife, but it's also home to some of the most dangerous species as well. Land-based anglers should always wear reef shoes and shuffle in shallow water to avoid stepping on a stingray or stonefish.
7. Leave nothing behind
As a World Heritage Site, Shark Bay is recognised for its unique natural features – pristine waters, healthy seagrass beds, and a vibrant marine life population all make it the truly special place that it is. Do your part to preserve Shark Bay's natural beauty – don't throw old lines into the ocean and don't throw any trash overboard. The only thing you should be leaving behind are the catches that you aren't going to keep!
Start planning your trip to Shark Bay today
For any Australian who is passionate about fishing, making the trip out to Shark Bay is always well worth it. No matter your skill level or fishing style, you're sure to have a fantastic day on the water so long as you're prepared.
And there's so much more to Shark Bay than fish – watch sharks and whales from the top of Steep Point, see wild dolphins up close at Monkey Mia, or go bushwalking through Francois Peron National Park. The possibilities are endless when you visit this natural wonder.
For more information about things to do in Shark Bay and booking details, visit our website.